Find an old wood slice and don't know what to do with it?  Make this super easy DIY Lazy Susan in just a few minute!
Happy Thursday friends! I'm so excited to be back together with another DIY project with the #repurposeit Monthly Thrift Store Challenge! This month, I'm sharing the easiest project I have probably ever completed to date – a DIY Lazy Susan!
Disclaimer: This post may contains affiliate links, which means I receive a small commission when you purchase an item at no additional cost to you. Thank you for supporting Southbound!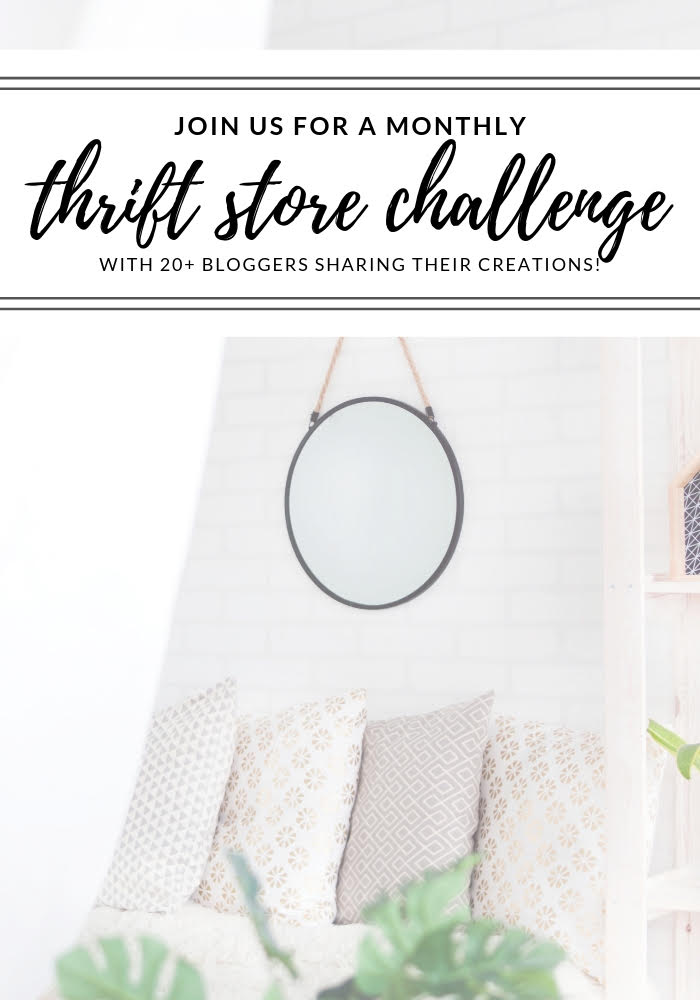 The Rules:
Upcycle an item(s) from a thrift store, resale store, or garage sale into a new piece of decor.
There's no monthly theme.
There's no budget to stick to.
Meet the Hosts
Angela | Simply Beautiful By Angela – Deborah | Salvage Sister & Mister – Angie | Flippin Fanchers – Denise | My Thrifty House – Jenny | Cookies Coffee and Crafts – Lynne | My Family Thyme – Meredith | Southbound Blog – Marie | The Inspiration Vault – Gail | Purple Hues and Me – Molly | Just a Little Creativity – Pili | My Sweet Things – Amanda | Domestically Creative – Ali | Home Crafts By Ali – Carmen | Living Letter Home – Emy | Semigloss Design – Jeanie | Create and Babble – Marie | DIY Adulation – Heather | Glitter On A Dime
Make sure you follow our board on Pinterest for more upcycled decor inspiration!
In my kitchen, I've taken over a little corner of the counter space for a mini coffee station.  It holds my new Ninja Coffee Maker, a mug tree filled with Rae Dunn mugs and some canisters of coffee and sugar. It's a small space, but it's all we have room for in this kitchen!
For awhile, I've wanted a Lazy Susan to add to my coffee station so I can easily rotate my mug tree and get to the mugs at the back.  Not only does it make it easier to put the mugs away after washing them, it helps so I use all my Rae Dunn mugs evenly and don't just use the first ones I see 😉
Yes, I have a slight Rae Dunn mug problem – but in addition to them being beautiful, they hold SO much coffee and keep it warmer much longer than regular mugs.  That, and they're so fun to search for in stores! Who else is obsessed? My friend & I are always sending pictures of our 'finds' and grabbing things we know the other would love.
Back to the DIY Lazy Susan… I have been on the look out for one for awhile, but never found any that I loved.  I saw a great grey marble one at HomeSense during one trip, but it just wasn't the right look I was going for.  I searched high and low for a wooden one, but they are EXPENSIVE! They were around $50 on Amazon, or $30+ at HomeSense.. more than I wanted to spend for something that was just spinning my coffee mugs around!
While I was browsing through Value Village one day, I found an adorable wood slice for $5 – and this project was so quick, that I forgot to take a picture of it on it's own! Here is everything I used for this super simple DIY Lazy Susan:
What you'll need:
• Wooden slab in your desired sized (mine was about 12″ around)
• Lazy Susan Hardware (found on Amazon for around $7 or your local hardware store)
• Screwdriver
• 1/2″ screws
That's it!  Seriously.  With four items, five minutes and $12, I was able to make this DIY Lazy Susan. All you have to do is centre the Lazy Susan hardware to your slab, screw it down in each corner and voila! You're done.
I couldn't get the price sticker fully off, so I used this side for the hardware.  Screw in the four corners, and you're good to go.
Seriously.  It was harder to get a good boomerang of the slice moving than it was to screw it down!
It's really hard to capture how helpful this is in just a photo – but even if it didn't turn, it adds some visual texture to the space!
So of course, I had to do a boomerang too!
Seriously – this was the easiest. project. ever!! It helps that it's so pretty, too. In reading some instructions online after (mine didn't come with any!), some people suggest screwing the other side of it to another piece of wood for … stability, maybe? Or to prevent your counter from getting scratched? But I haven't had any issues with it as is! If I have any scratches, I'll probably just rest it on a cork pad or something similiar to prevent it – maybe even hot glue it to the bottom.  But so far, so good!
If you are going to use this as a tray, you could always paint or stencil a design on top of it for added interest.  Or try it on a square, or different shape for a unique look!  What is great about this project is you can take it SO MANY different ways, and it will look amazing!
And now for more thrifty goodness!
Check out what my fellow upcyclers created below!
My favourite part of this challenge every month is seeing all of the amazing projects that everyone creates.  This Saturday morning, you'll find me curled up with a cup of coffee, looking through all of these beautiful & inspiring photos!
Want to save this for later? Pin the image below!