Happy Thursday friends! I am so excited to be back today with another great group of ladies for the monthly Thrift Store Challenge! If you're new here, this is a monthly blog hop where we each share a different project done with a thrifted item. In the past, I've made over some artwork, a cute side table, and made a DIY lazy susan – this month, I'm tackling a Simple Thrifted Candle Holder Makeover!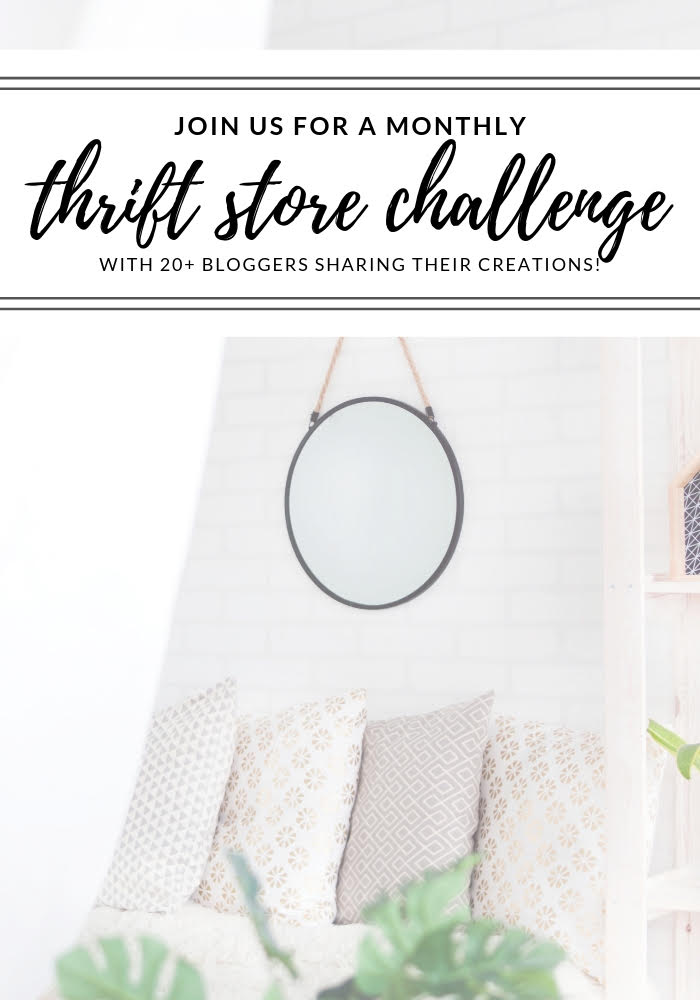 The Rules:
Upcycle an item(s) from a thrift store, resale store, or garage sale into a new piece of decor.
There's no monthly theme.
There's no budget to stick to.
Meet the Hosts
Angela | Simply Beautiful By Angela – Meredith | Southbound Blog – Jenny | Cookies Coffee and Crafts – Angie | Grandma Creates – Gail | Purple Hues and Me – Michelle | Michelle Jame Designs – Lynne | My Family Thyme – Habiba | Craftify My Love – Marie | DIY Adulation – Kathleen | Our Hopeful Home – Michelle | Our Crafty Mom – Carmen | Living Letter Home – Ann | Duct Tape and Denim – Salvage Sister & Mister – Chas | Chas' Crazy Creations
Make sure you follow our board on Pinterest for more upcycled decor inspiration!
Simple Thrifted Candle Holder Makeover
Lately, I've been OBSESSED with candle holders – wooden, glass, distressted, pink – I have so. many that I love! They can get pretty expensive though, so I've been on the look out for some great ones at thrift stores.  You can usually find quite a few in different styles, though not all are in great shape.  On a recent trip, I found these and couldn't pass them up!
The two white ones were only $4 each, and the wooden one was 50 cents! I couldn't resists them, and decided to give all three a simple makeover to have a cohesive look. The white candle holders look like they've seen better days, but overall they were in great condition. To start, I gave them a quick sand and wipe down to smooth out the surface.
I was originally going to do a dry-brushed black over the white to match another candle holder I found at Homegoods, but then I found an un-opened jar of Antique Wedgewood Fat Paint.  I LOVE using Fat Paint, and my local retailer was moving to a new location so they had a huge sale and I stocked up on what they had left of a few of my favorite colors! I have never used this one before, but it is the perfect blue-grey paint and I can't get enough.
There was pretty decent coverage after one coat..
But I gave them a second coat just to be safe!
They came out SO NICE in Antique Wedgewood, but I wanted to make them look a little more rustic! I took my sanding block and lightly distressed them in a few spots (and maybe went overboard a little bit at times..) and I LOVE how this Simple Thrifted Candle Holder Makeover turned out!
I should have done a coat of white paint on the thinner wooden one to start for a fully matched look, but I don't mind it!
I aboslutely love how they came out though, and they pair so well with my little flower arrangement! This was SUCH a quick and easy makeover, ANYONE could do this simple thrift store candle holder makeover!!
And now for more thrifty goodness!
Check out what my fellow upcyclers created below!
You are invited to the Inlinkz link party!
Be sure to check out the other projects! I love looking through them each month when they are posted – so much inspiration!
Want to save this Simple Thrifted Candle Holder Makeover with Fat Paint for later? Pin the image below!