Do you have an old thrift store side table (or any piece of furniture!) that you want to update?  Read on to see how I completed this super simple, quick thrift store side table makeover!
Happy Thursday! I am so excited today to be back with another monthly Thrift Store Challenge!  On the last Thursday of every month, a group of lovely bloggers (myself included!) get together to share a project using something from the thrift store, Craigslist/Kijiji, or any second hand item.  I love browsing the thrift store and always end up coming home with all sorts of random goodies – so I am SO EXCITED to have an 'excuse' to get working on all the projects I come up with for my goodies. Today, I'm sharing a super easy thrift store side table makeover!
Disclaimer: This post may contains affiliate links, which means I receive a small commission when you purchase an item at no additional cost to you. Thank you for supporting Southbound!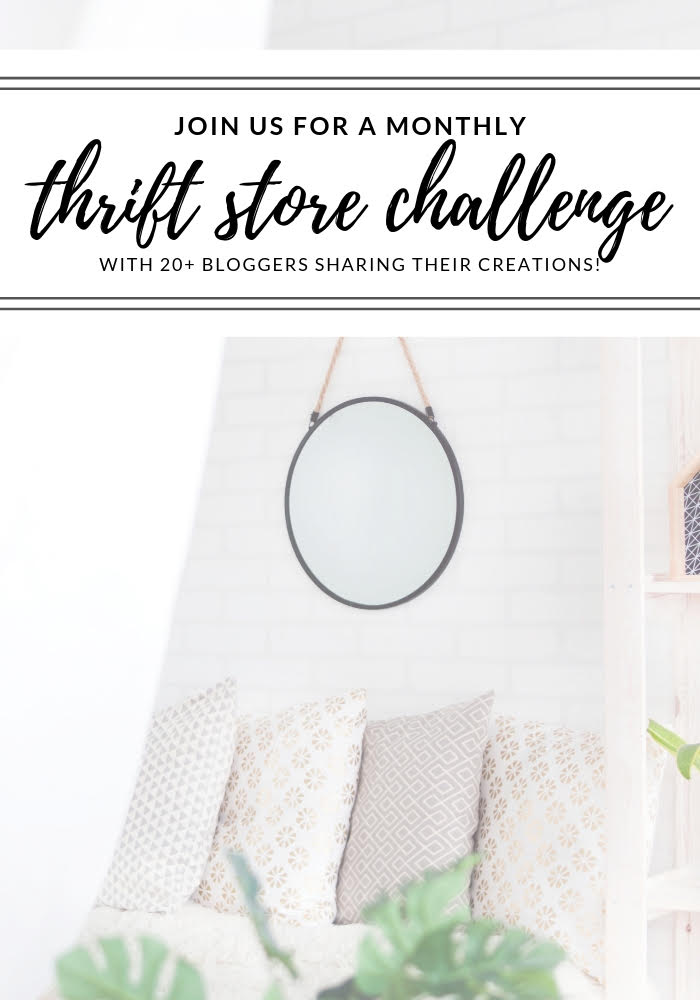 The Rules:
Upcycle an item(s) from a thrift store, resale store, or garage sale into a new piece of decor.
There's no monthly theme.
There's no budget to stick to.
Meet the Hosts
Angela | Simply Beautiful By Angela – Jenny | Cookies Coffee and Crafts – Heather | Glitter On A Dime – Amanda | Domestically Creative – Denise | My Thrifty House – Molly | Just a Little Creativity – Angie | Flippin Fanchers – Victoria | Dazzle While Frazzled – Debra | Shoppe No 5 – Marie | The Inspiration Vault – Deborah | Salvage Sister & Mister – Pili | My Sweet Things – Carmen | Living Letter Home – Habiba | Craftify My Love – Emy | Semigloss Design – Meredith | Southbound Blog
Make sure you follow our board on Pinterest for more upcycled decor inspiration!
This project is SUPER simple – it only took me a few hours to complete, and most of that was just waiting for the first coat of paint to dry!  I found this side table a few years ago at Missions Thriftstore, and bought it knowing I would give it a makeover one day.  I wasn't quite sure where it would go, or what color it would end up – but I loved the bones of it, and for only $16 I couldn't pass it up!
Thrift Store Side Table Makeover – Before
It was in great shape, so I knew it was a perfect contender for a thrift store side table makeover! I love the curves on the legs, but of course, they gave me the most trouble while painting!
To start, I gave this table a quick wipe down with warm, soapy water.  It was pretty clean to start with, but it had been sitting around for a few months collecting dust so it needed a bit of a wash.  I had a jar of Folk Art Chalk Paint in 'Vintage Mustard' that I grabbed at Michaels on clearance that was just the perfect pop of color for this thrift store side table makeover! This table is in my reading nook in the living room, which has various wood tones, grey walls, and overall not much color- so I wanted to bring in a pop of yellow! The end 'style' of the room is going to be a coastal farmhouse look, so I'll be bringing in some blues, yellow, and maybe even a pop of blush pink if I can get away with it 😉
By now, I'm sure just about everyone has painted something with chalk paint – so I won't give you a tutorial for that! There are plenty on Pinterest if you haven't tried it yet, and it is SUPER easy.  The first coat always give me a bit of a scare, but have no fear – it WILL get better with the second coat!
I'm not sure if this top had some wax or sealer on it, but there were a few spots that took a few extra coats to get full coverage – it didn't help that it was such a light color going over dark wood! But two solid coats were enough for a quick, super impactful thrift store side table makeover.
Thrift Store Side Table Makeover – After
It's hard to get a full photo of the table in the space, but I love the pop of color it brings to the room!  With my blanket ladder, cozy chair and now the adorable side table (fit with a dog lamp, of course!) – I love this little reading nook!  You can get the Blush Buffalo Check pillow in my shop here. The dog lamp was a clearance find at Meijer of all places! My dad built the blanket ladder for me over the summer, and I love the layers of cozy that come with having so many blankets in here.
And now for more thrifty goodness!
Check out what my fellow upcyclers created below!
Thank you so much for following along with all of our projects! My favorite part of this challenge is seeing all of the other creative pieces that everyone else creates.
Want to save this for later? Pin the image below!