Have a closet full of old thrift store art work?  Read on to see a simple two step way to upgrade thrift store art!
I used to have a Saturday morning ritual where I would drive around town and stop at all of my favourite stores – Missions Thrift Store, Value Village, Michaels, Winners, and occasionally Wal-Mart if I needed some groceries. I was always on the hunt for something I could upgrade, but had a terrible habit of never actually following through on any of the projects. When Sean & I moved in together and I had to move
all. that. crap.
from one house to another, I decided to seriously cut back on my thrift store shopping until I started using up what I already had! Since I have so many project ideas in my head (and the products needed for them in my closet!), I am so happy to be joining up with a group of amazing bloggers to bring you a monthly thrift store challenge! Disclaimer: This post may contains affiliate links, which means I receive a small commission when you purchase an item at no additional cost to you. Thank you for supporting Southbound!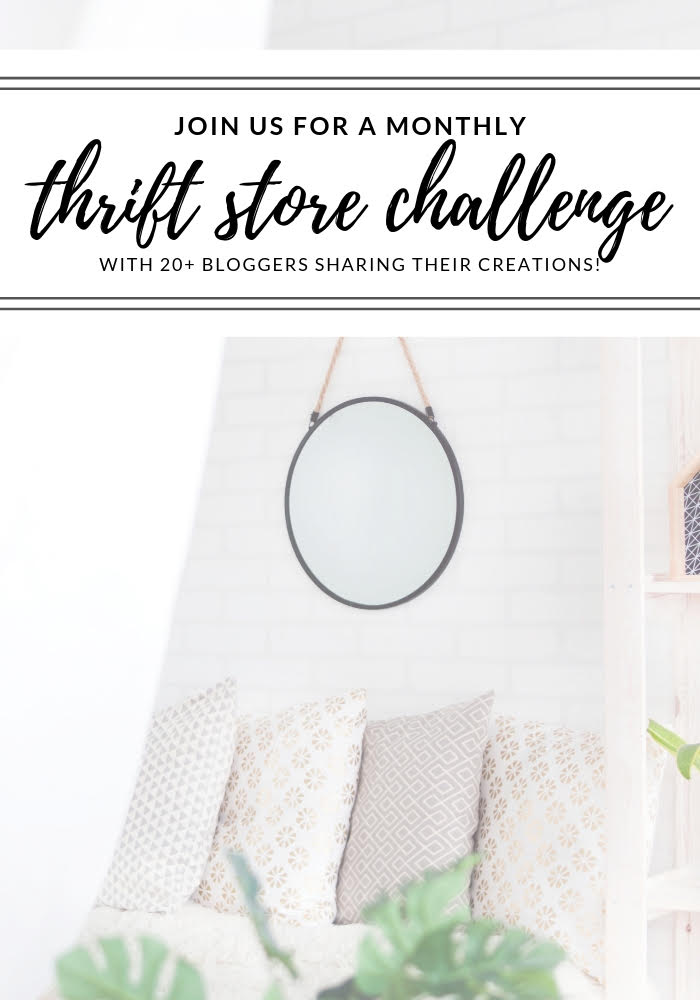 The Rules:
Upcycle an item(s) from a thrift store, resale store, or garage sale into a new piece of decor.
There's no monthly theme.
There's no budget to stick to.
Meet the Hosts
Angela |
Simply Beautiful By Angela
– Heather |
Glitter On A Dime
Amanda |
Domestically Creative
– Michelle |
Our Crafty Mom
Jenny |
Cookies Coffee and Cra
f
ts
– Ali |
Home Crafts by Ali
– Lynn |
My Family Thyme
– Emy |
Semigloss Design
– Denise |
My Thrifty House
– Michelle |
Michelle James Designs
– Debra |
Shoppe No 5
– Habiba |
Craftify My Love
– Victoria |
Dazzle While Frazzled
– Ann |
Duct Tape and Denim
– Molly |
Just a Little Creativity
– Morgan |
Charlston Crafted
– Meredith |
Southbound Blog
Make sure you follow our board on Pinterest for more upcycled decor inspiration!
Today, I'm sharing my Thrift Store Art Update project! This is a
perfect
project to use up what you already have. Follow these two steps and you can upgrade thrift store art in no time!  I picked up four of these paintings at Value Village one day for a STEAL – they were beautiful as is, but I knew that with a little bit of time I could take them up a notch.
Disclaimer: This post may contains affiliate links, which means I receive a small commission when you purchase an item at no additional cost to you. Thank you for supporting Southbound!
For some reason, two of these frames were marked for $2.99 and two of them were marked for $9.99. I was going to buy them anyways since I fell in love instantly, but the cashier took a look at the tags and since all four were labelled the same day and were identical, so she gave me the $2.99 price for each of them!! Score.
Upgrade Your Thrift Store STEP ONE: Spray Paint!
The frames were a big part of what made me fall in love with these paintings. I LOVE the shape, and they were a nice shade of gold. There was a bit of staining on them and some funky colours showing, so I gave them all a quick coat of gold spray paint to spruce them up a bit. It was a small change, but you can really notice the difference when side by side! It's not necessary at all, depending on the state of your frame, but I think it added a nice touch.
Upgrade Your Thrift Store STEP TWO: Add Lettering
I wanted to add something to these frames to 'spice' them up since I loved the artwork, but I didn't want to completely cover it up- enter my Silhouette Cutting machine (one of my FAVOURITE crafting tools, though I don't use it nearly enough!) I thought about trying a reverse stencil (painting over vinyl letters and then removing them so the text would show the print, and the rest would be white) but when I applied the vinyl I LOVED the result of white letters on the painting and decided to keep it that way. I used the font 'Bebas' and chose lyrics from one of my favourite Tim McGraw songs, Humble and Kind. I layed out the text in Silhouette Design Studio based on the size of my prints (approx. 8×10) and fit it onto two of the prints.
I transferred the vinyl onto my transfer paper (my least favourite part of vinyl crafting) and then onto the print and I immediately fell in LOVE with the outcome!
I thought about adding some text to the waterscapes as well, but decided it would be better to leave them as-is for a little bit of balance. Here are the prints up on my gallery wall:
It's that easy! I told you, these are SUPER simple ways to upgrade your thrift store art. Clearly, I still have some work to do on the gallery wall 😉 The yellow frame on the top right will be replaced by a white one (when I find my last match from the set), the frames will be filled with more photos, and I have another DIY frame idea for the top right corner where you see some empty space. And don't worry – the frames on the top ARE lined up, I just had to adjust the wire after hanging. An update photo will come once the wall is complete 🙂 Have you ever made over something you bought at a thrift store? I'd love to see it! You can check out the rest of the thrift store projects below!
And now for more thrifty goodness!
Check out what my fellow upcyclers created below!